COMPONENT REBUILD
INFRASTRUCTURES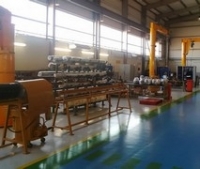 To best meet the needs of its customers, Burkina Equipements has at its disposal a Component Rebuilt Centre (CRC). That centre has been established to propose renovated engine or transmission components cheaper than new ones.
That centre applies contamination control procedures: optimized storage conditions for spare parts, pressurised workshops, packaging and protection for reconditioned components.
The CRC in Gampela, Burkina Faso:
An area of 2100m²
Two bridges 12.5 ton and 5 tons cranes
14 gallows 1 to 3.5 ton
Processed components: 3516 engines, C175-46 (795F)
Other components: transmissions, torque converters, differentials, final drives, hydraulic cylinders, injection pumps
THE PROGRAMS
The component exchange program
This exclusive program eradicates any downtime for your machinery during repair work. We provide a component to be installed on your machine for the duration of the repair of your initial part which has reached the end of its life.
Caterpillar components are designed to be repaired or rebuilt, making reconditioning an economic and rational option.
By choosing the PEX component replacement program, you get the following benefits:
Reduced downtime for your machines.
Reconditioning costs known in advance: you optimize your "maintenance" budget costs.
You reduce your environmental impact by reconditioning components that would usually be at the end of their life.
By providing regular information about the uses and conditions of your machine we can anticipate and plan your component requirements and manage your priorities.
GIVE NEW LIFE TO YOUR COMPONENTS THROUGH APPROPRIATE PROGRAMS
The component reconditioning programme
A classic process, reconditioning consists of repairing your component using Cat methods and procedures. Your component is reconditioned before it breaks down and within the best time frame. In case of major deterioration or damage, repair kits also help to save your components. Maintenance and repair procedures are tailored to your equipment: specialized tools, sophisticated tests and staff trained in the latest technological developments.
With reconditioning in our CRC, you are sure to get back your component fully restored to working order in accordance with Caterpillar standards, at an inexpensive price and within the best time frame, and guaranteed for 6 months!